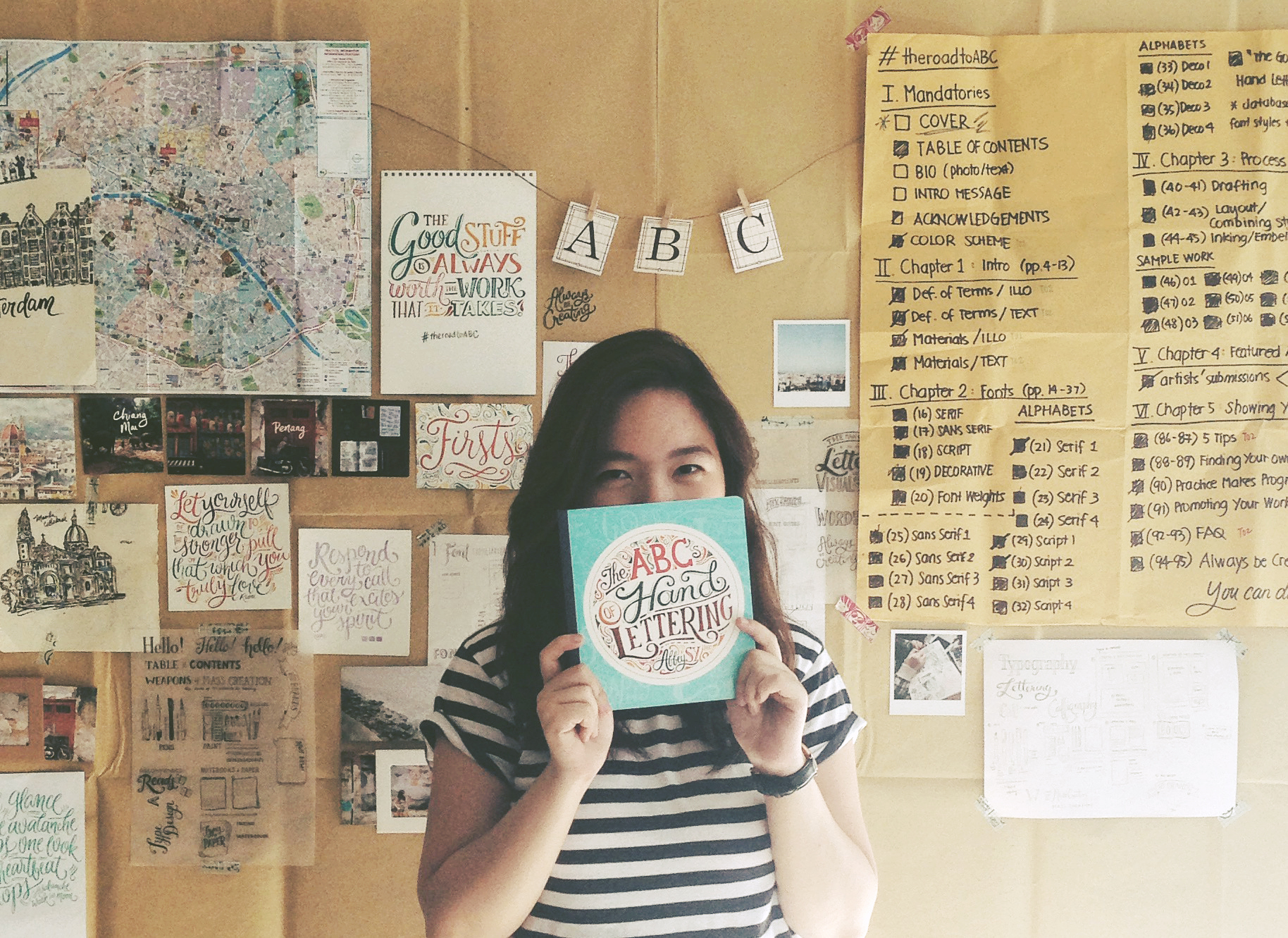 Abbey Sy is an artist, a letterer and bestselling author.  Her work, colorful, intricate, creative, never fails to spark joy.  Her generosity in teaching what she knows and her belief that you should follow your heart are inspiring.  Let her journey (in her own words) make you smile and encourage you to make time to do what you love everyday.
Tell us a little bit about yourself and how you got to where you are now.
I worked at an ad agency immediately after graduation (my course was Advertising Management) as a strategic planner. I stayed for 10 months and decided to take a big leap to freelancing after realizing I've been wrong about my own beliefs. I gave a TEDx talk last Feb 2015 and that was the biggest turning point of my career—because, if I could inspire people to follow their passion and do what they love, why didn't I?
I discovered that you can turn your passion into a career if you know how to work around it. It's been more than a year that I'm pursuing this full-time, and there have been ups and downs along the way—not something you see on social media, but there have always been internal battles coming along.
The biggest part of it was learning to adapt on my own and make right decisions, and be with the right people.
All of which I sort of figured out along the way. It's not easy for a 23-year old to want to do something like this (I doubted myself because of age for the longest time) but in my head, as long as I'm getting by and slowly ticking off my bucket list goals, and inspiring others to believe in themselves creatively, then I think that's enough.
What are you currently doing?
Currently chasing two project deadlines and trying to stay sane in the process.
What's the most courageous thing you have ever done?
Leaving my day job and going on as a full-time artist.
What was the most challenging part about it?  How did you get through the challenge?
I guess apart from the art aspect, having to be brave and strong about my decision to leave the comforts of a stable job was the most challenging part about it all. People my age are all working 9 to 5 and here I am, having the freedom of doing what I want and when I want it.
The struggle was more of finding the right balance of enjoying what I do  and taking a breather once in a while. I am a workaholic in the worst way.
How do you deal with overwhelm?
There's the occasional hermit day after a major event launch has happened. I would spend a whole chunk of a week alone, working, writing, drawing, watching films, reading. I don't like feeling overwhelmed for the fact that it sets my system into panic mode, so I just divert my attention to a lot of different things when I feel overwhelmed. At the end of the day, I still am human.
How do you motivate yourself when life gets blah?
The idea that each day leads to something better and gives me more opportunity to create and change the world bit by bit.  That's probably very generic but generally, I just remind myself why I'm here and how far I've come. No time to turn back anymore.
What are your self-care rituals?
Take naps and wake up not feeling guilty about sleeping too much. Kidding aside, I like to dance (workout), drown myself in sappy indie/coming-of-age films, meet up with friends for coffee, and if time permits, travel alone.
What three things are you most grateful for?
1. Getting to do what I love on a daily basis and inspiring others in the process
2. Friends and family, especially mentors, who always remind me why I do what I do and why it matters
3. Traveling. I feel like seeing the world around me is a way to understand myself more and the idea of going to unfamiliar places and territories always excites me.
If you could give advice to yourself five years ago, what would you tell her?
Five years ago was actually my turning point to adulthood (my 18th birthday). I would tell her that she should always believe in herself and follow her heart—not just for art, but also whatever she wanted to pursue at the time.
What's the best advice you've ever received?
To focus on the little victories rather than the big picture, and to always, always be kind, grateful and optimistic.
Are there other dreams you want to fulfill?
Yes! A lot, actually. One of them is to visit New York before turning 25. Other dreams are pretty ambitious: write books for international publishing houses and have my own physical store when the right time comes.
What are your favorite:
Apps: Trello (sorry, geek much), VSCO (for editing photos), Dropbox, Notes (brain dump)
Books:  The Alchemist, Steal Like An Artist, The Creative License
Movies:  Submarine, Pride & Prejudice, Moonrise Kingdom
Blogs:  Lisa Congdon, Austin Kleon
Quote of the day:  Be tough enough to follow through.
Instagrammer/Instagram account: @bali_ayu, @gulliverhancock, @presentandcorrect
Go-to/no-fail outfit  Striped top, capris or culottes, and sneakers.
Thank you for the inspiration, your kindness and generosity, Abbey.
Her Extraordinary Life is a series of interviews with amazing women I have been inspired by, who have made courageous choices and are living extraordinary lives.